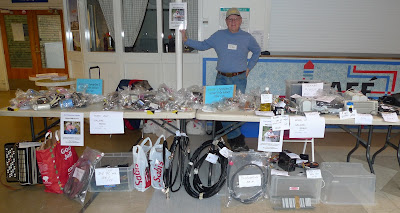 The annual SK0QO amateur radio flea market was held in Haninge Sweden on October 3, 2009. I was there assisting my friend Sven, SM5LE. The sales income went directly from Sven to the amateur radio club SK0QO for its youth activities.

I was looking for telegraph keys.


On the back of Pontus, SM0SBI, SM1A you can see his remotely controlled antennas on the island Gotland in the Baltic Sea.

Also new equipment was sold, from ICOM, YAESU etc.. This is equipment manufactured by radio amateurs in Sweden. A six band QRP transceiver kit and interfaces to remotely control ICOM and Kenwood transceivers without using a PC.


Sven, SM5LE has after 3 hours almost sold everything on the table. The happy guy is Petri, SM0XDO, a former colleague of mine.

I was lucky! I found and bought this telegraph key. This Swedish made key is more than 100 years old and is still in excellent shape. The black tape was applied to prevent the latest owner from possible electric shock

From
The Telegraph Office
:


This key is a fitting tribute to Swedish engineering and craftsmanship. Lindholm and Wikstrom of Stockholm, Sweden made this particular key approximately 1890 to 1905. The design,

dating from the mid-19th century is rather unique. It is unlike any American or European made telegraph keys of the of the same period.
This type of key was designed by Anton Henric Öller in 1857. Öller built the

first telegraph line in

Sweden

using equipment from

France

and

Germany

. He set up his own shop in

Sweden

to build telegraph instruments. Öller and watchmaker N. P. Lundström were issued Swedish patent No. 54 for his design. He manufactured the design from 1859 until 1886.




Two of Öller's machinists, J. A. Lindholm and John A. Wikstrom, broke away and set up their own shops in 1878. When Öller died in 1889, they bought his tooling and inventory from his widow and made telegraph instruments until 1905.




Another Öller employee, Lars Magnus Ericsson, started as a trainee around 1870. He went to

France

and

Germany

in 1872 on a government scholarship to learn telegraph instrument manufacturing technology. Ericsson formed his own company in 1876 to repair telegraph instruments. He later went into the manufacture of telephone and telegraph equipment and this company is now the big Ericsson industry.



A short video from the event is here.